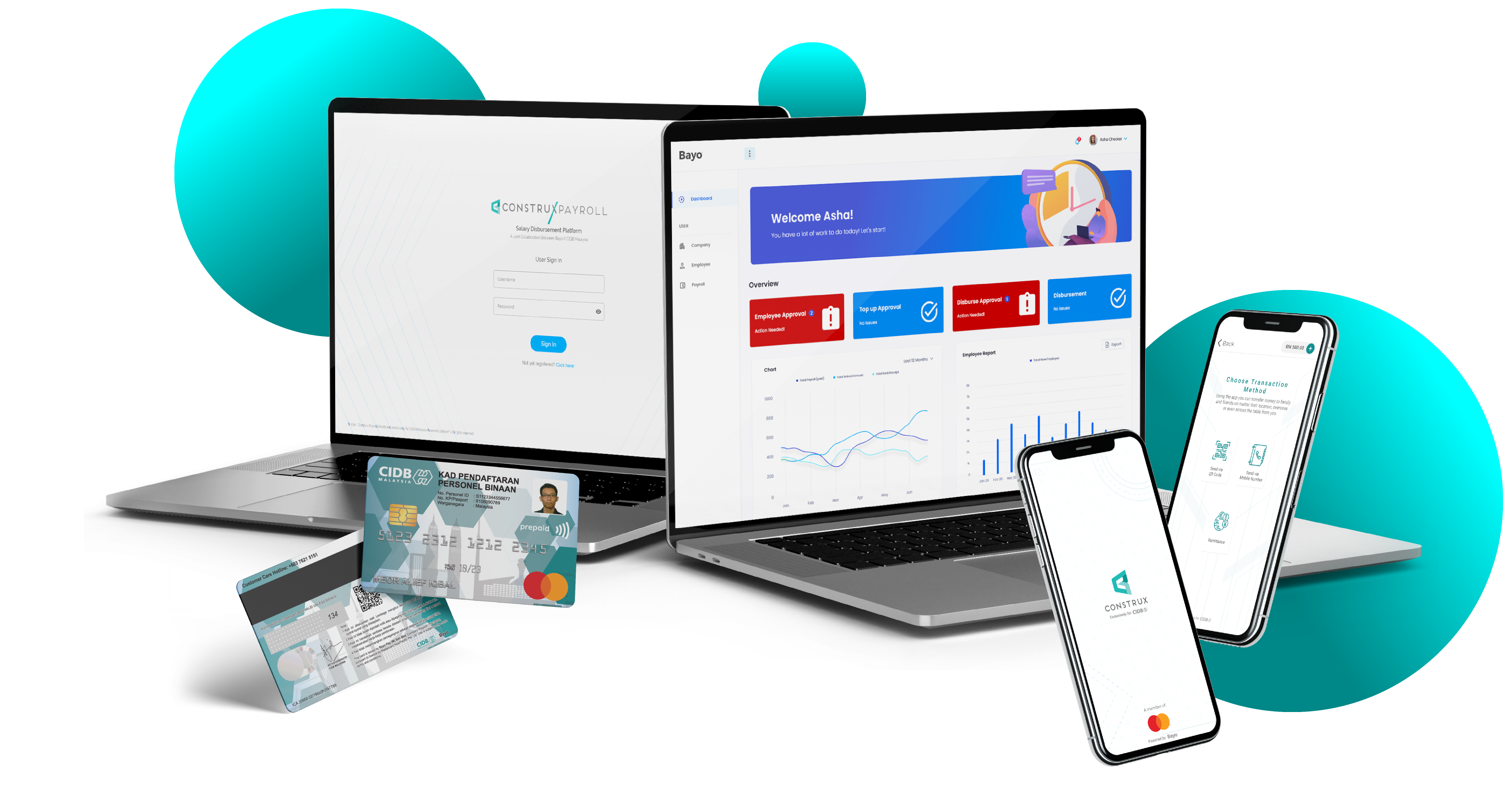 Construx is essentially a brand with product & solution line-up that came about from a collaboration programme between Construction Industry Development Board ("CIDB") Malaysia and Bayo Pay (M) Sdn Bhd (a licensed entity under BNM to issue Designated Payment Instrument under S.11 of the FSA 2013 and a principal member of Mastercard Asia/Pacific Pte.Ltd. and referred to as "Bayo").
This initiative is part of the government effort to not only enhance the service delivery to stakeholders but to also digitalize and transform the construction industry in Malaysia.
Construx consists of a number of products designed to cater to different stakeholders under this programme; CIDB Construction Personnel Registration Card, Construx wallet and Portal as well as Construx Payroll. CIDB Construction Personnel Registration Card, Construx wallet and Portal are intended for the use of all the construction personnel accredited by CIDB Malaysia whilst Construx Payroll is intended for the use of the employers of the construction personnel i.e. construction companies that are registered with CIDB Malaysia.
Scroll down to know more about these products!
It's A Dual Function Smart Card!
The all-new Construction Personnel Registration Card ("Card") is a dual-function smart card;it is an ID and a payment card designed specifically for all construction personnel in Malaysia. Equipped with more security features i.e. 2-Factor Authentication Security Standard; EMV-certified chip and QR code, the Smart Card is highly secure, tamper-proof and nearly impossible to counterfeit.
Be It For ID Purposes or Payment Purposes, Physical or
Virtual ID and Payment Instrument
,
We've Got Your Back!
CIDB Construction Personnel Registration Card ("Card") is attached with Construx wallet – which means, you get to enjoy virtual ID (e-ID) as well as virtual wallet! Here's why you should sit back, relax and enjoy using the card!
What Is Construx Wallet?
The Construx Wallet is a mobile app designed for all construction site personnel that is registered with CIDB in Malaysia, and is linked to your physical CIDB Card.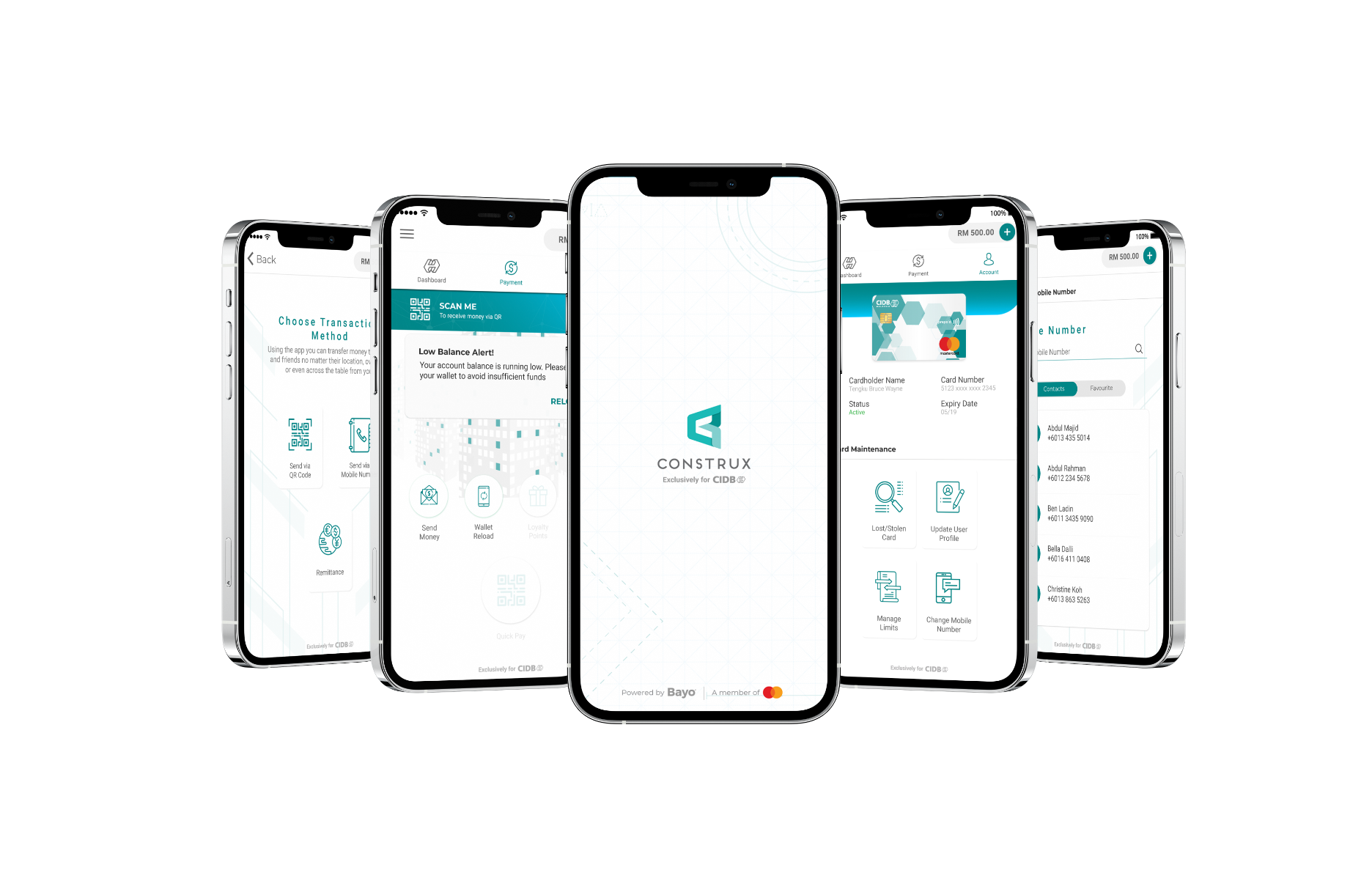 View The Whole Package!
The all-new CIDB Card comes with a mobile app and web portal platform for you to access and manage your account anytime, anywhere!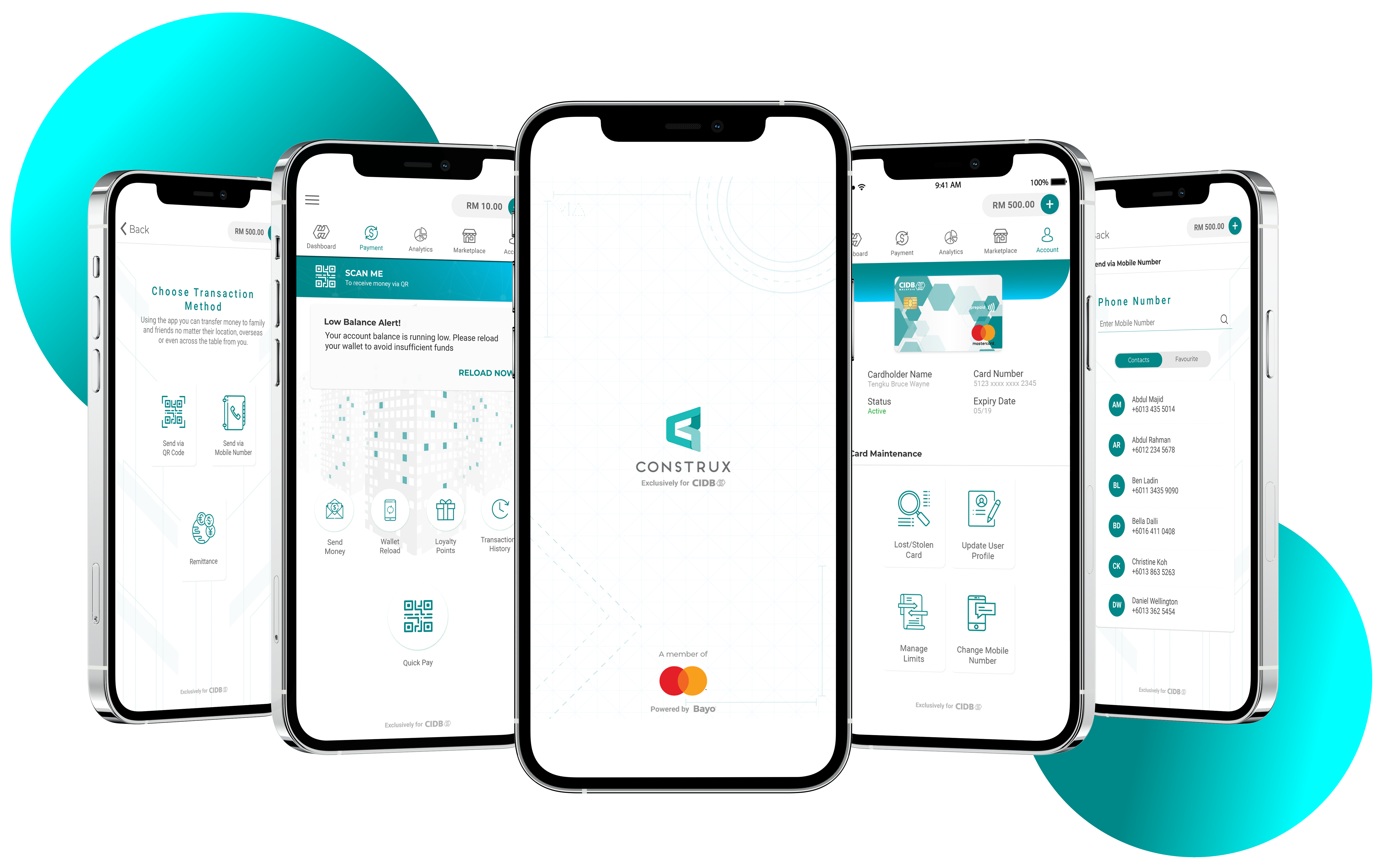 It's the fastest and most flexible way to pay, top-up, send and receive money.
The Right Tools For
Faster
Payments
A welcoming convenience for users to pay their bills, reload, shop and dine via a trusted and secured payment platform.
"An Add-on Function

of

Construx Wallet!"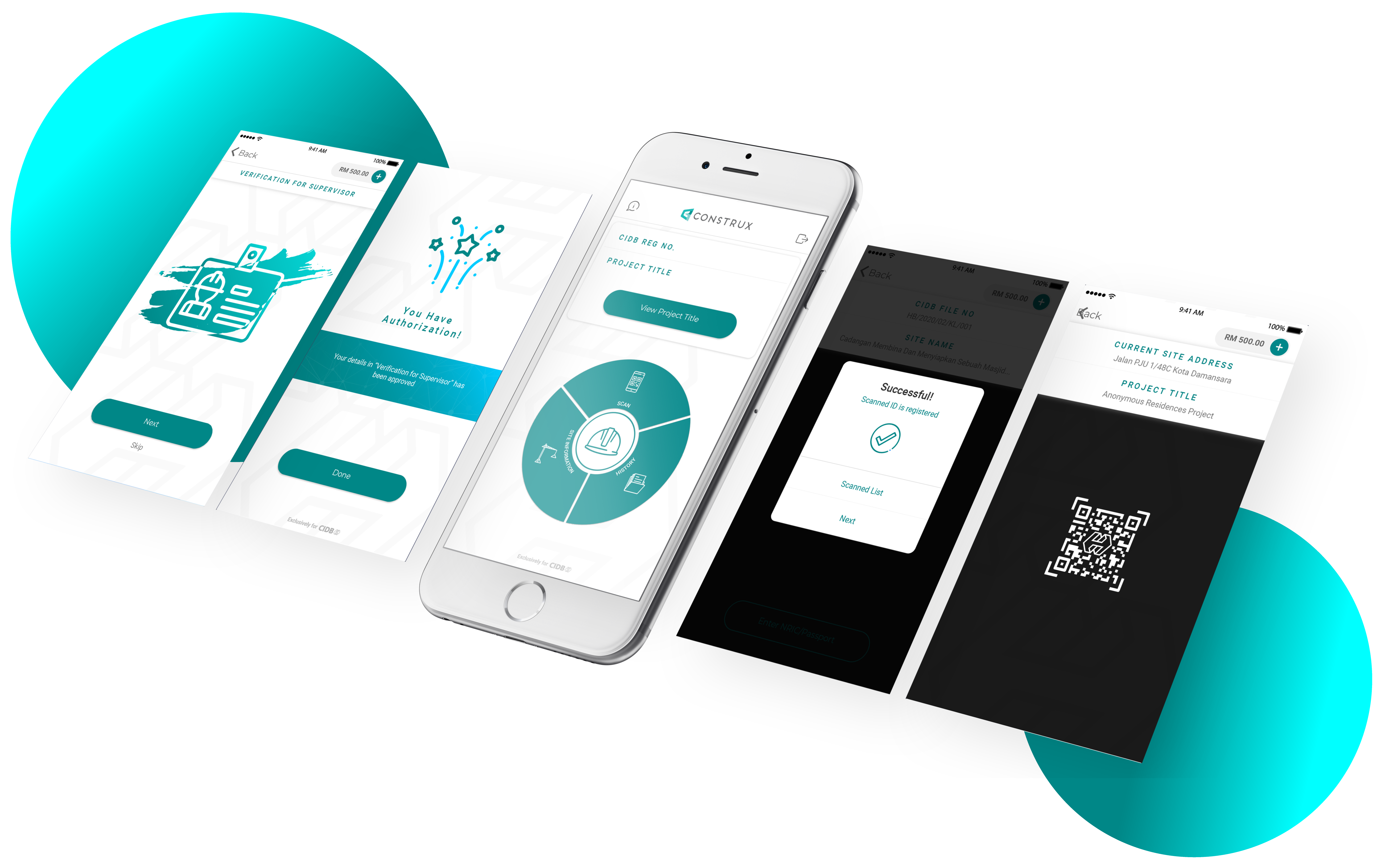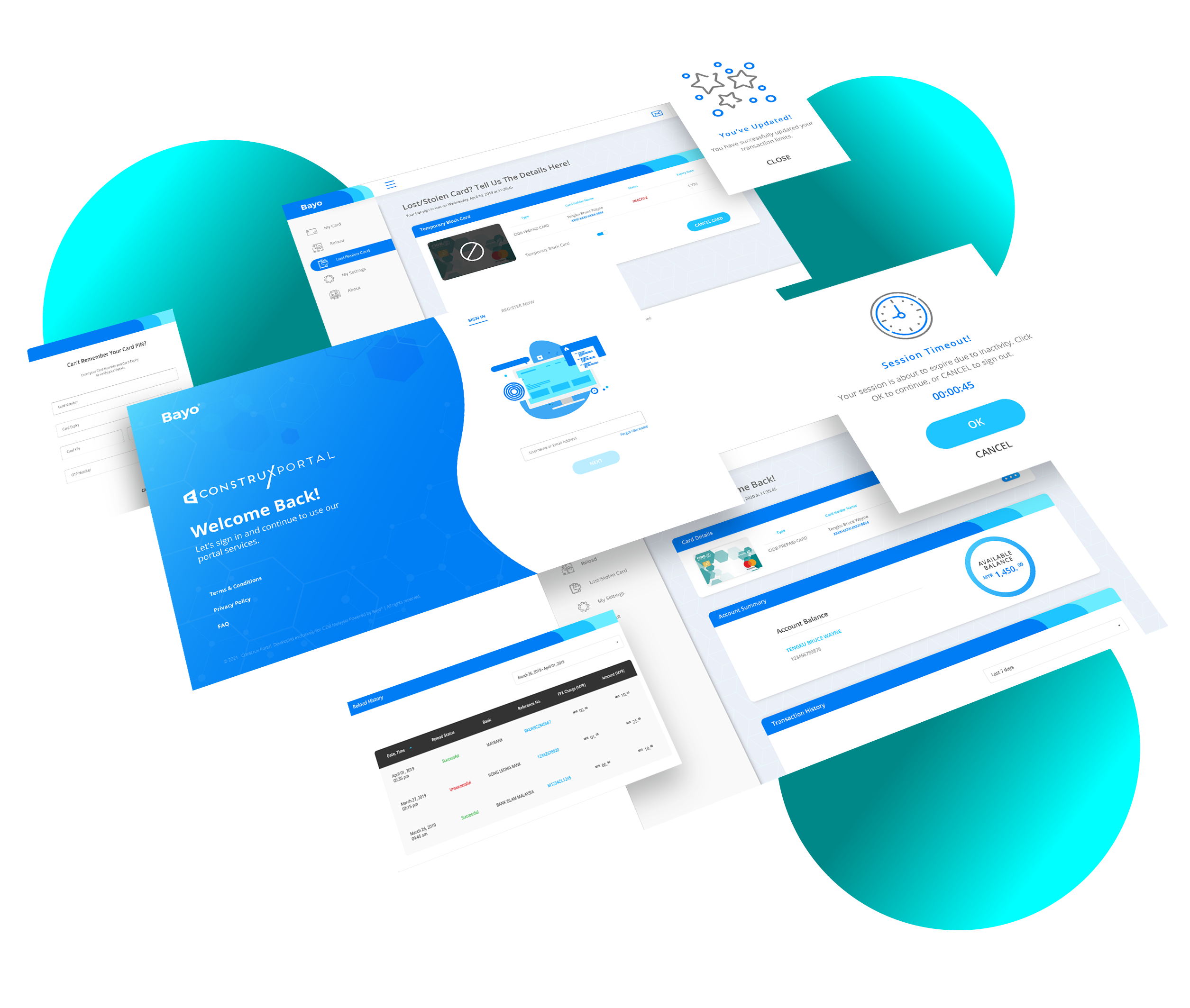 What To

Do To Get On-boarded

?
A payroll management platform developed by Bayo to cater to the needs of companies/employers in construction industry registered with CIDB when it comes to salary crediting to employees especially the unbanked ones. Via this platform, salary is credited to employees' CIDB Construction Personnel Registration Card.
Free for all companies registered with CIDB!
Interested companies click on 'Register Now!'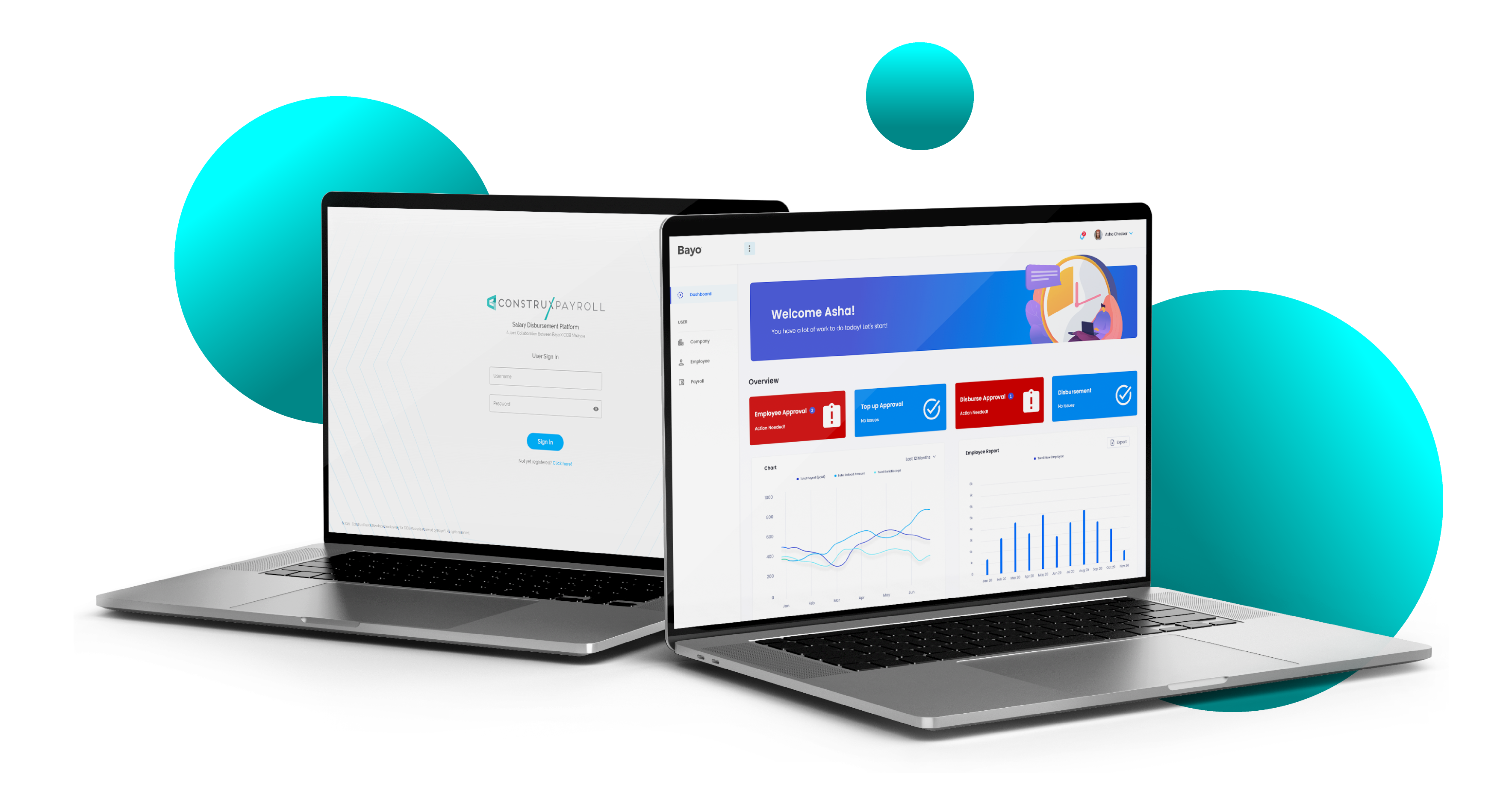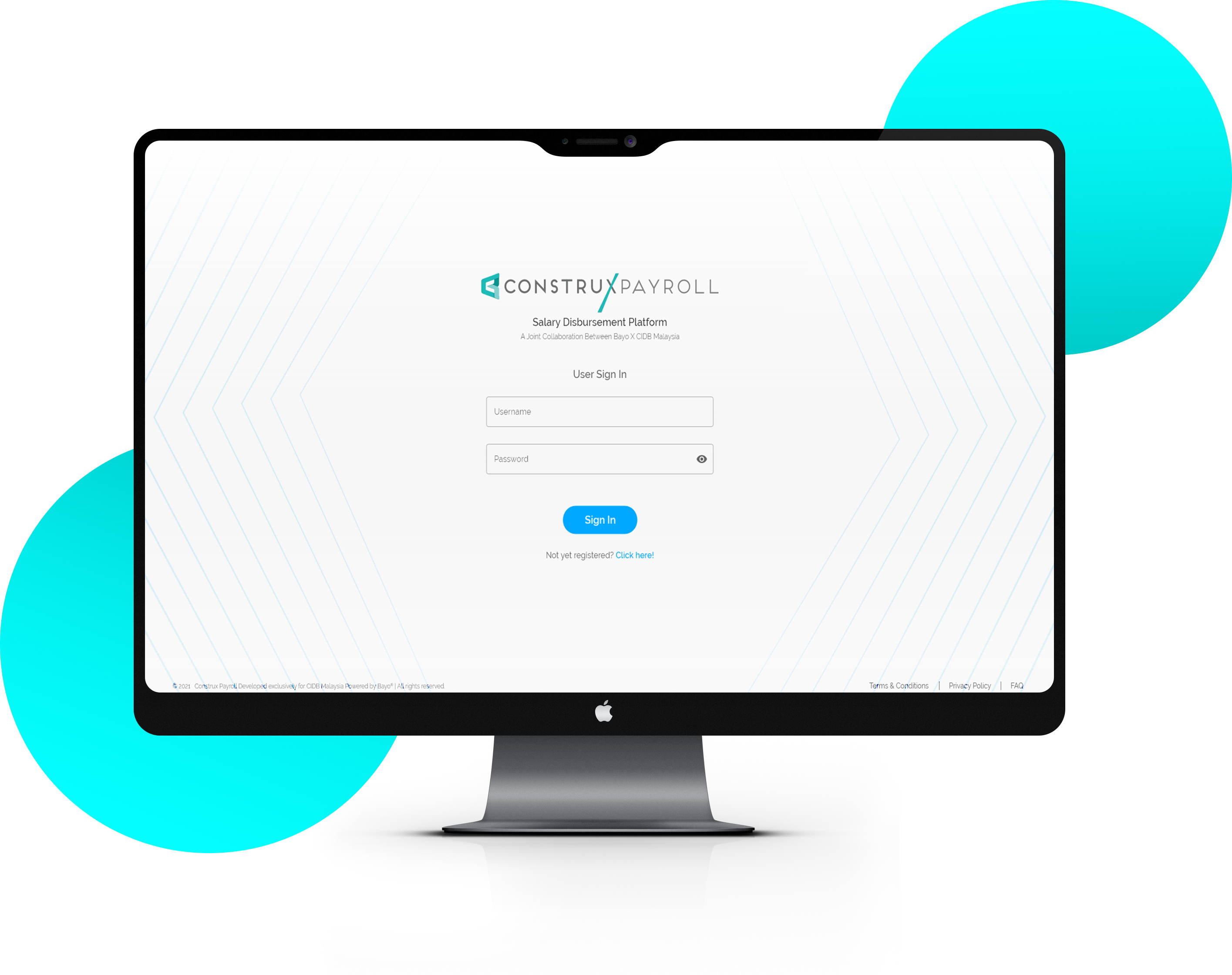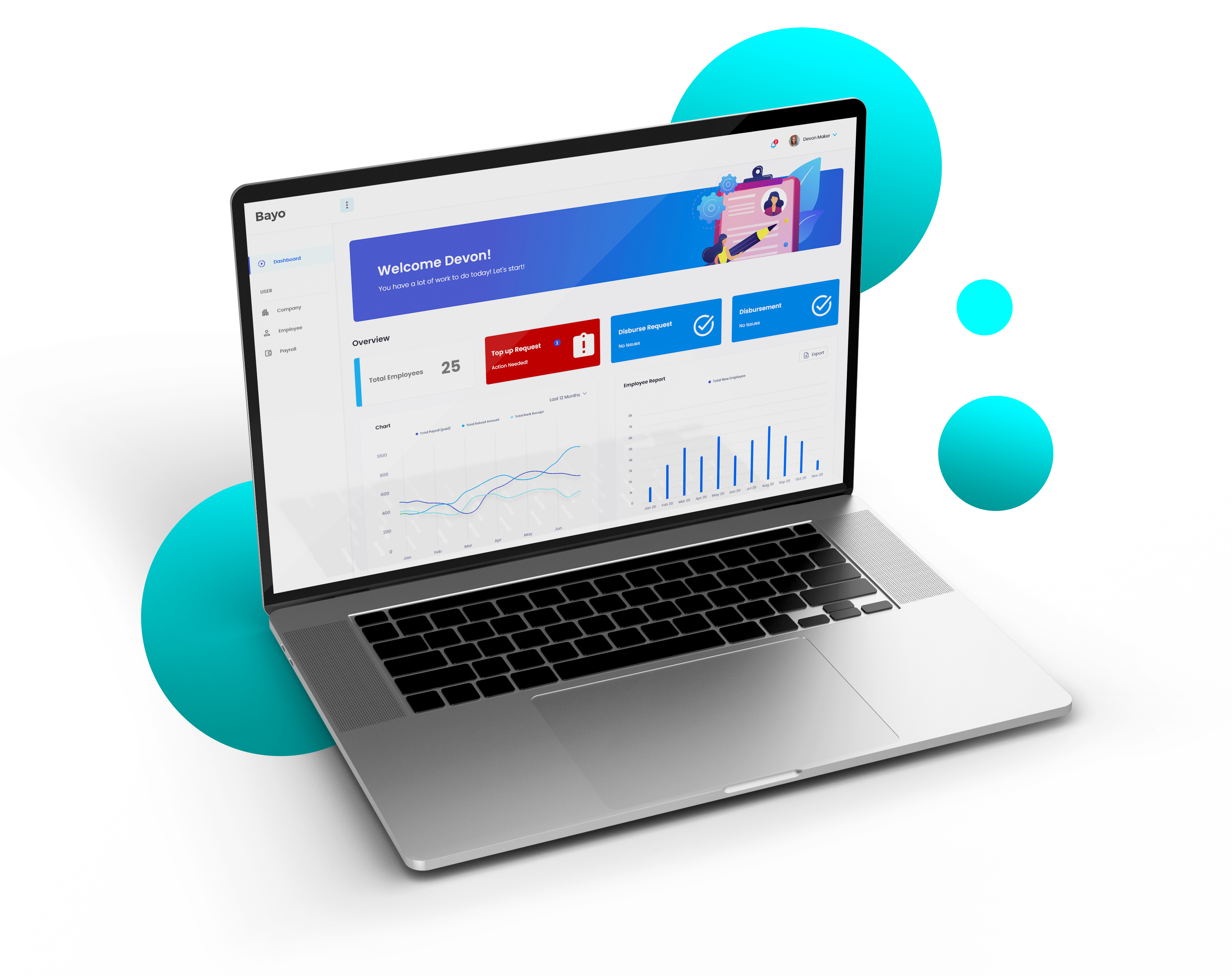 This process allows companies to register with Construx Payroll and submit necessary documents for verification purposes.
Upon the success of registration, employers will be notified by email with approval to access the Construx Payroll for managing salary payments to all employees.
T

his function allows employers/companies to create 'Maker' and 'Checker' roles for segregation of duties and risk and control management.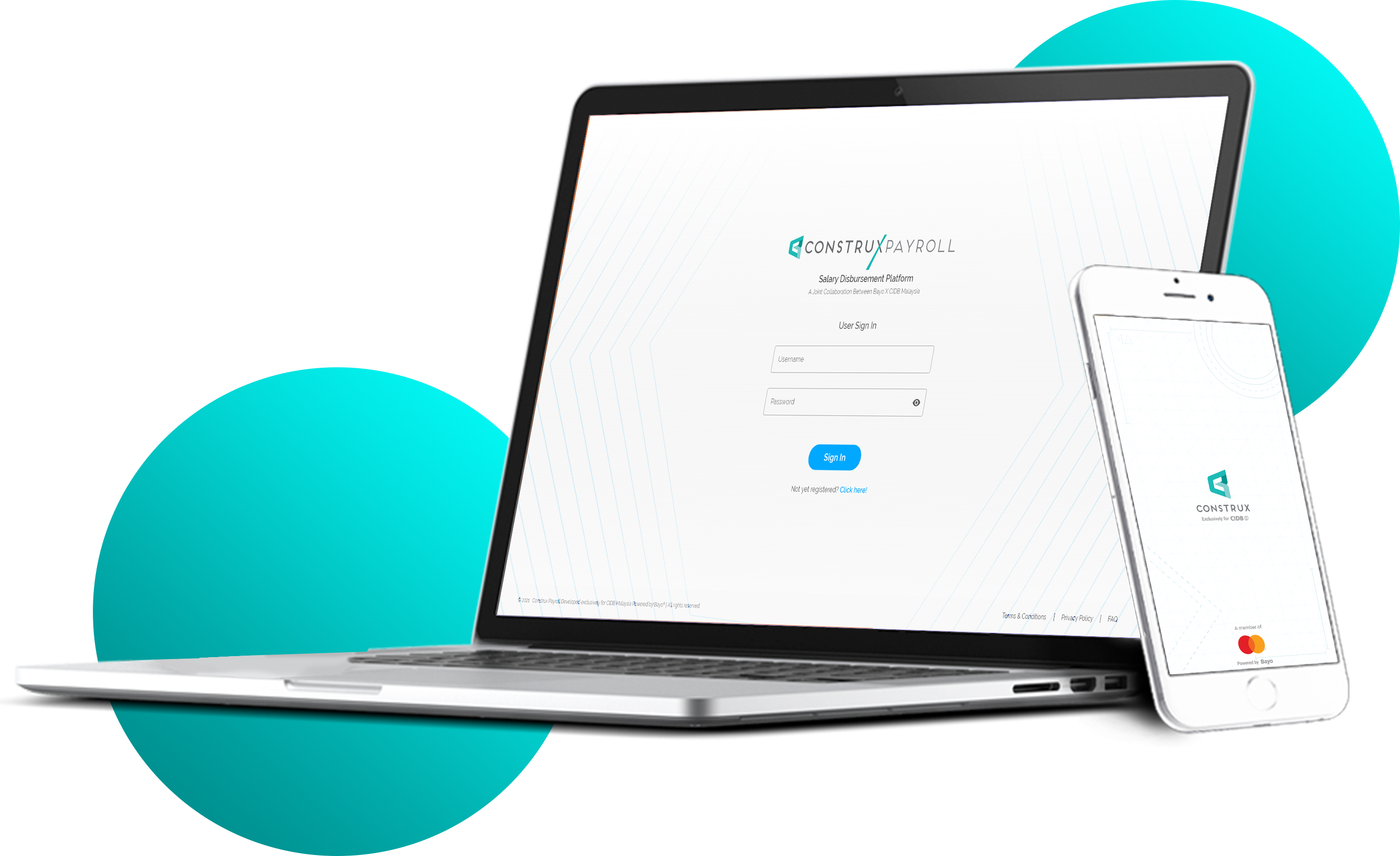 F

unds transfer is done securely via FPX after the necessary approval from company's 'Checker'.
Once successful, salary will be credited into employees' CIDB Card.
Employees will be able to access their salary via Construx Wallet and Construx Portal and make online transactions instantly. Employees are also able to do cash withdrawal at any ATM machines that accepts Mastercard payment card globally.
*All features are subjected to the terms and conditions.
Construx Payroll to Facilitate

Companies in

Construction Industry
Simple on-boarding process for employers
Eliminate the need for employers to open up bank accounts for foreign workers
Eliminate cost and issues associated with cash-handling especially related to the unbanked for the employers
Better payroll management within the construction companies
Instant and convenient access to salary 24/7 for the employees
All About Lifestyle –



Done
Digitally
With the all-new CIDB Construction Personnel Registration Card, your lifestyle just went digital where you can relax and enjoy more what life has to offer. Stay tune, there'll be more features coming your way!
We are working tirelessly on offering exciting new features for users to fully enjoy unlimited digital payment experience.
*All features are subjected to the terms and conditions.
Construx Card / Construx Wallet / Construx Portal
Construx Card Introduction & Features
Construx Portal Registration
Construx Wallet Registration
Construx Wallet Mobile PIN Activation
Introduction to Construx Payroll
How To Register Your Company Into Construx Payroll
Who Are The Key Roles Using The Construx Payroll System
What To Do If You Forgot Your Username
What To Do If You Forgot Your Password
How To Download Templates Required For Construx Payroll
How To Disburse Salary Once Payment is Approved
How To Login As 'Maker' In The Construx Payroll
How To Update Your Company Details As The Maker
How To Upload Employee Data Into The Construx Payroll
How To Create/Delete Payroll In The Construx Payroll
How To Resubmit Payroll That Was Rejected By The Checker
How To Make Payment After Payroll Is Approved By The Checker
How To Assign New Maker & Change Maker Password
How To Login As The 'Checker' In The Construx Payroll
How To Approve/Reject Payroll Request Submitted By The Maker
How To Approve/Reject Changes of Company Details
How To Approve/Reject Changes of Maker's Information Detail
How To Request Making Changes to Checker's Information Detail
How To Change Checker's Password
Bayo Pay unveils money transfer app for construction personnel
Bayo Pay chief executive officer Aznul Abdullah said the collaboration was reflective of the company's commitment to provide continuous enhancement and value-added digital payment [...]
Construx Bayo Pay tawar perkhidmatan kiriman wang antarabangsa
PETALING JAYA: Bayo Pay (M) Sdn. Bhd. (Bayo Pay), syarikat kewangan (fintech) tempatan, terus meluaskan perkhidmatannya kepada industri pembinaan melalui aplikasi mudah alih Construx [...]
Bayo's Construx mobile app enables remittances to 190 countries
KUALA LUMPUR, Aug 2 -- Local fintech company Bayo Pay (M) Sdn Bhd (Bayo) has launched the Construx mobile application - an online remittance [...]
Digital boost for all CIDB-registered contractors, personnel
With Construx Payroll, the construction companies can now pay salaries directly to their employees into its employees' CIDB Green Card and Construx mobile wallet [...]
Bayo Pay develops Construx Payroll platform for construction companies, workers
Bayo Pay (M) Sdn Bhd (Bayo Pay) has developed the Construx Payroll platform, a digital salary disbursement gateway that will benefit all contractors and [...]
Construx mudahkan pembayaran gaji pekerja sektor pembinaan
KUALA LUMPUR: Syarikat teknologi kewangan tempatan, Bayo Pay (M) Sdn Bhd (Bayo Pay) memperkenalkan platform pembayaran gaji digital Construx bagi memudahkan pembayaran gaji buat [...]